Classes offered by Satisfice, Inc.
2017
Make sure to try out the ONLINE Course... Rapid Software Testing Applied Online
I teach four classes and also do many different talks.
This seminar teaches the Rapid Software Testing methodology in an interactive, Socratic way. We introduce you to the deep skills of finding important bugs fast, while being able to explain and defend your work. This form of testing is compatible with both an agile and non-agile development process. It is our most popular class. It is usually taught in three-days, although we also do an abbreviated version in two-days and sometimes a longer version that incorporates more practice or elements of other seminars.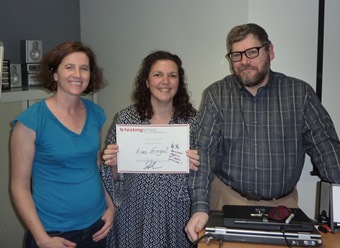 James at the RST Class in Sydney, Australia, June 2014
Pictured (left to right) Anne-Marie Charrett, Kim Engel, and James Bach
This on-line or onsite seminar applies Rapid Software Testing methodology to testing a specific product. It can be taken before or after the other classes. Some students have found this to be a useful prequel to RST; others have said it's a good follow-on.
Rapid Software Testing Management

(RSTM)
This seminar is a one or two-day follow-on to RST that is aimed specifically at people who will manage rapid testers. RST is a strict pre-requisite.
Session and Thread-Based Test Management (SBTM)
This one or two-day seminar focuses on how to use the techniques of Session-based Test Management (SBTM) and Thread-based Test Management (TBTM). RST is not required before taking this class.
---