Welcome! Satisfice, Inc. is a company founded and operated by me, James Bach. Satisfice is dedicated to teaching and consulting in software testing and quality assurance. Many testing companies consist of business people trying to provide testing services. I'm more like a craftsman who runs a business. What you'll find at this Satisfice website is mainly interesting articles about testing.
ONLINE RSTA CLASS...
MAY 1-3, 2019
Rapid Software Testing Applied Online with James Bach CLASS IS FULL
REGISTRATION IS NOW CLOSED.. Sign up for JUNE 2019 below.
***************************************************************************************************
Rapid Software Testing Applied Online with James Bach
CLASS IS FULL
***************************************************************************************************
ONLINE RSTA CLASS...
JULY 24-26 , 2019
Registration opening soon...stand by.
Secrets of a Buccaneer-Scholar
Self-Education and the
Pursuit of
Passion
By
James Marcus Bach


This book demonstrates how to nurture one's natural curiosities and passions through the whimsical learning process I call "buccaneering"—demonstrating that those who understand this fundamental principle will come to dominate this new world.

James signing "Secrets of a Buccaneer Scholar" books at Swiss Testing Day in Zurich, Switzerland.

See video of James talking about self-education
Buccaneer-Scholar website
Lessons Learned in Software Testing: A Context-Driven Approach
This book is a radical departure from conventional wisdom found in software testing textbooks. Presented in a couple hundred bite-sized lessons, we offer our best ideas and advice for the working software tester. We cover at least four subjects rarely discussed in testing textbooks: thinking like a tester, bug advocacy, interacting with programmers, and test design strategy. more...
Rapid Software Testing™ Class Materials:
RST Slides (pdf)
RST Appendices (pdf)
Consulting and Classes
I specialize in thinking about, teaching, and performing testing as a sophisticated thinking art. I am part of a community called the Context-Driven School. Some of the best-known names in the testing field are part of this movement.
I offer testing classes and consulting. My classes are set up to be provocative and experiential. Each class is an exploration of my notes as a student of testing, for the benefit of other students. This is an exciting subject for me, and my goal is to share that excitement; to infect you with it. more...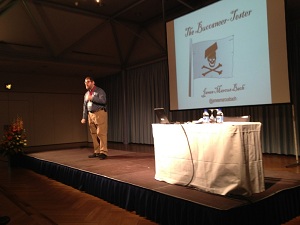 James teaching at Swiss Testing Day in Zurich, Switzerland, March 2012
Rapid Testing Methodology
I call my approach Rapid Software Testing. My style of Rapid Software Testing is tester-centric (as opposed to technique-centric) and is a blend of heuristic testing, risk-based testing, and exploratory testing. Further information about exploratory testing can be found in my article Exploratory Testing Explained.
I've developed a class in Rapid Software Testing. This class introduces you to rapid software testing, a complete testing methodology designed for a world of barely sufficient resources, information, and time.
Based on the principles in the book Lessons Learned in Software Testing: a Context-Driven Approach, this class presents an approach to testing that begins with personal skill development and extends to the ultimate mission of software testing: lighting the way of the project by evaluating the product. more...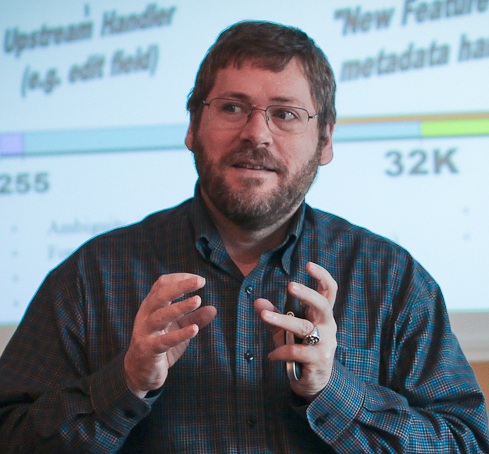 James Bach, Founder and CEO of Satisfice Inc
Some of our clients have said...
"Thank you very much for the RST course! James' style of engaging and questioning is different from any other course (of any type) that we've done and a lot of people found it much more engaging"
--Edmund Pringle, System Test Manager, Metaswitch Networks
"This {RST Training} is the best thing I've ever done for our employees' on-going development."
--Geoff Jamieson
of S1 Corporation's Shared Services in Cape Town, South Africa
"Probably the biggest influence has just been James Bach, a testing consultant and frequent presenter at testing conferences. He has trained my staff in exploratory testing approaches, which has led to a rework, and demonstrable improvement in our test strategies. For exploratory testing to be effective, it is crucial to train managers and the rest of the team in this approach."
--Ian Wells, New Zealand